Thinking Big-Picture.
At Hanover evidence and empirics serves as
"True North" for our clients' financial goals,
deliberate process supports our dispassionate recommendations, and each client's goals and circumstances drive everything that we do.
Thinking Independently.
As an independent firm, with no distracting corporate sales, product quotas or shareholder interests, we are free to contribute to and benefit from a range of community-minded engagements, and to work with anyone who can
advance our clients' optimal outcomes.
Nothing comes between Hanover and the clients we serve.
Thinking Professionally.
Our
clients' advanced planning needs call for advanced integration:
estate planning cannot be done without tax mitigation; investments and risk must be managed concurrently; and so on. Our professional certifications – CPA, CA, CFA®, CFP® and CLU® – cover the spectrum of our clients' financial interests.
Thinking Empirically.
We apply the Science of Wealth Management to offer informed, quantitative
answers to our clients' most important, qualitative questions.
Thinking Collaboratively.
We are committed to the principle that
our clients benefit when we collaborate
with others in advancing and promoting widespread financial stewardship. We work directly with fellow professionals, organizations and scholars to promote industry-wide best practices while strengthening our own client experience. Cooperating with leading service providers such as Vanguard, BlackRock and RBC Capital Markets, we routinely suggest, test and integrate innovative new resolutions to shared challenges.
Thinking Resourcefully.
To
broadly represent our clients' highest interests,
we regularly participate in international financial, accounting and financial planning leadership initiatives, such as:
Developing resources for the AICPA and CFA Institute in private wealth management.
Organizing private wealth conferences on investment management, risk management, tax planning and more.
Serving in leadership roles in Canadian and U.S. professional societies including the AICPA Financial Planning Executive Committee; the Accounting Standards Oversight Council; the CFA Society Toronto (the second-largest CFA society in the world); the CFA Institute's Private Wealth Advisory Committee; and a range of additional professional organizations.
Thinking About Our Clients.
To offer
our clients our level best,
we focus on professional development, not business development, continuously seeking sensible new opportunities and solutions to deliver in investments, acquisitions, divestiture, financing and risk-management strategies.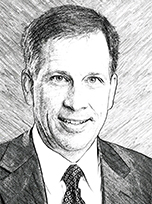 Thomas J. Trainor,
CPA, CA, MBA, CFA, CFP, CLU
Managing Director


Tom integrates his education and professional credentials with more than 30 years of industry experience to create, execute and oversee highly customized, integrated wealth strategies for his clients. He founded Hanover in 1999 based on the tradition of European private banks that advise clients on the breadth of their personal financial affairs utilizing advanced practices and knowledge employed by international institutions and wealthy family offices.
Previously, Tom co-founded a multi-family office that was acquired by an international financial institution and managed investment portfolios at a boutique portfolio management firm in Toronto. Tom was also a vice president with J.P. Morgan in New York and Toronto, and advised international companies and families on investments, acquisitions, divestitures, financing and risk management strategies. He earned his CA with Doane Raymond, a predecessor firm of Grant Thornton.
Active professionally, Tom participates in numerous professional committees, which coordinate year-round private wealth thought leadership conferences on investment management, risk management and tax planning. His current professional committees include AICPA Personal Financial Planning Executive Committee (Canadian representative) and the CPA Canada Accounting Standards Oversight Committee. He is a past president and board member of the Toronto CFA Society and was chair of the Private Client, Governance and Audit committees. He was vice chair of the Private Wealth Advisory Committee of the CFA Institute which advised the professional body on the developments in the international private wealth area.
Less active personally than he should be, Tom is a reformed commercial pilot who strives to remain physically fit by running slowly, playing hockey poorly and ignoring the green keepers who tell him to stay away from their golf courses.

Education:
Chartered Life Underwriter (CLU), CLU Institute
Certified Financial Planner (CFP), Financial Planners Standards Council
Chartered Financial Analyst (CFA), CFA Institute
Master of Business Administration, Richard Ivey School of Business, University of Western Ontario
Chartered Accountant (CPA, CA), CPA Canada (formerly Canadian Institute of Chartered Accountants)
Bachelor of Commerce, Dalhousie University
Professional Memberships:
Advocis
American Institute of Certified Public Accountants
CFAInstitute
CFA Society Toronto
CLU Institute
CPACanada (formerly CICA)
CPA Ontario
Financial Planners Standards Council
Institute of Chartered Accountants of Nova Scotia
Current Professional Committees:
AICPA Personal Financial Planning Executive Committee
CFA Society Toronto Private Wealth Committee
CFA Society Toronto Governance Committee
CPA Canada Accounting Standards Oversight Committee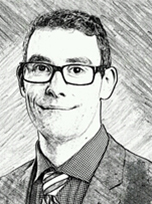 Christopher J. Kay,
CAIA
Associate


Chris leverages his varied experience in financial analysis and technology to offer far-reaching support to Hanover and our clients. Assisting with portfolio management, trade execution and client service, he provides the empirics that help families make confident decisions about their most important "what if?" questions. He also ensures our operations are running efficiently. He is ever on the look-out for ways to refine our infrastructure, whether it's upgrading our proprietary asset allocation software or enhancing our reporting package.
Chris augments his role at Hanover through his experience in the alternative investment asset class, with a specific interest in angel investments and venture capital. He is an active member of the Toronto start-up technology community, and co-founder of Multiplicity, a non-profit group supporting start-up technology companies with education and thought leadership. Before that, he was a group manager at the Ryerson Angel Network, where he assisted start-up technology companies in generating deal-flows, screening initial investment opportunities and developing relationships with accredited Angel Investors. Chris also has served as a marketing production specialist for CSI Global Education (formerly the Canadian Securities Institute).
Chris can often be found with his nose in a book on topics ranging from the philosophy of art to information theory. He also enjoys walking his French Bulldog Frankie, although he has learned it is best to not pursue both of his interests simultaneously.

Education:
Chartered Financial Analyst (CFA) Level 2 Candidate, CFA Institute
Chartered Alternative Investment Analyst (CAIA), CAIA Association
Canadian Investment Manager (CIM), CSI Global Education
Bachelor of Commerce Candidate, Finance Major, Ryerson University
Professional Memberships:
Chartered Alternative Investment Analyst (CAIA) Association
CFA Society Toronto, Associate Member